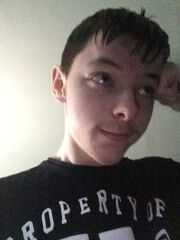 RetroPokeFan (or by his original name as credited in the pilot RetroMagFan) is a British voice actor/YouTuber.
Born on June 2nd 2000 and having been inspired by many voice actors throughout his life over the years ever since he was a child, he is hoping to become a real time voice actor and work on many stuff such as games, animated shows and other stuff.
But for now, he regularly does voices on Crotoonia for characters such as The Workman, Sir Reginald, The Goods Manager and a couple of other characters. 

When he's not on Crotoonia he's normally doing voice impressions of popular characters on YouTube, doing voices in other people's videos (including The World of Kevin C's PokeProblems fandub as James) and congratulating voice actors getting cast in projects on Twitter. 
RetroPokeFan's YouTube channel RetroPokeFan's Twitter page
Other Work
(Actor)
Thompson the Tank Engine (L.J. Productions) - Robert (2016)
NostalgiaDude1998's Thomas fandubs - Cranky, Diesel (Singing voice), Sir Robert Norramby and Rusty's Driver (2016-2018)
Taylor Z's Thomas fandubs - Cranky (2017)
TheWiseTenderEngine2001's Thomas fandubs - Bertie (2017)
The World of Kevin C's PokeProblem fandubs - James (2017-Present)